News
Hugh Jackman shocked by Barbra Streisand collaboration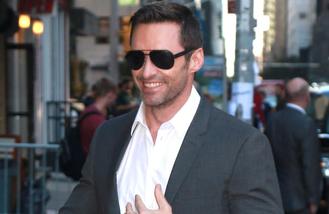 Hugh Jackman was shocked when Barbra Streisand asked him to duet with her.
The 'Wolverine' actor is one of the collaborators on Barbra's new album 'ENCORE: Movie Partners Sing Broadway', where they sing 'Any Moment Now' from the play 'Smile' and he admitted he couldn't believe it when he received an email asking him to take part.
Hugh said: "I was like, 'I don't know how on earth this has happened.'"
Hugh was Barbra's first choice for the song and she explained: "Being an actress, I like to sing songs that give me something to act. I heard the song and I thought, 'this is a way for me to use actors who act and sing with Broadway material.'"
The album also features Daisy Ridley, Anne Hathaway, Alec Baldwin, Seth MacFarlane, Patrick Wilson and Jamie Foxx.
Next month Barbra will embark on an eight-date tour across the US with two dates at Brooklyn's Barclays Center on August 11 and August 13.
The tour will be the first time Streisand - who is married to actor James Brolin - has been on the road since 2012's 'Back to Brooklyn' tour.
The run of shows will be in support of the 35th LP; a follow-up to 2014's 'Partners', which went platinum in the UK and US selling 500,000 copies in each country.
The 74-year-old songstress teased at the end of 2015 that she had an "idea" for a new record and praised her hard working team for having no "ego" when it came to collaborating together.
She previously shared: "I love doing my albums because I have a wonderful team that I work with. I have this idea for the album that I can't talk about yet.
"But there's no ego in it. It's like, I'll say something, they come up with something, and, 'Oh! Ah! Go to the piano and try this!' It's like doing a play."
Source: www.msn.com
Added automatically
704 views