News
Brian Wilson announces live LP featuring Zooey Deschanel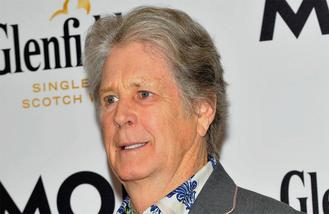 Brian Wilson is to release a live album featuring Zooey Deschanel and Kacey Musgraves.
The Beach Boys legend performed a concert with special guests in Las Vegas for PBS Soundstage in December 2014, and will drop a live CD and DVD of the show, 'Brian Wilson and Friends', with performances from 'Almost Famous' actress Zooey, country music singer Kacey, his former bandmate Al Jardine and Nate Ruess from Fun.
The tracklist includes Beach Boys biggest hits including, 'Good Vibrations' and 'Wouldn't It Be Nice'
It comes after the 72-year-old musician announced more dates for his Pet Sounds 50th Anniversary Tour, which will conclude on October 15 at Sacramento's Comunity Center Theatre.
And Brian is enjoying playing the record in its entirety.
He recently said: "It's a thrill to perform 'Pet Sounds' because I love the album and people love the way we make it sound just like the original record.
"The trips are going great. We just went to New Zealand, Australia and Japan and the people in those countries just flip for it. They love it."
Brian previously admitted although he is aware he will have to retire sometime in the future he wants to keep performing and making music for as long as he is able to.
The songwriter - who released his last solo album 'No Pier Pressure' in 2014 - said: "I've carried a lot of weight on my shoulders - a heavy load. For me, music is about love. Love is the message I want to share. I hope people feel the love in my music, I want to keep going. That makes the hard work worth it."
The CD/DVD and Blu-ray editions of the show will be released on July 29 via BMG.
'Brian Wilson and Friends' tracklist:
1. 'Our Prayer'
2. 'Heroes and Villains'
3. 'Sloop John B'
4. 'Dance, Dance, Dance'
5. 'Good Vibrations'
6. 'This Beautiful Day'
7. "Marcella"
8. 'Wild Honey' (feat. Blondie Chaplin and Ricky Fataar)
9. 'Sail On Sailor' (feat. Blondie Chaplin and Ricky Fataar)
10. 'Sail Away' (feat. Blondie Chaplin, Al Jardine, Ricky Fataar)
11. 'Half Moon Bay' (feat. Mark Isham)
12. 'Don't Talk' (feat. Mark Isham)
13. 'The Right Time' (feat. Al Jardine)
14. 'Wouldn't It Be Nice' (feat. Al Jardine)
15. 'Help Me Rhonda' (feat. Al Jardine)
16. 'Fun, Fun, Fun'
17. 'California Girls'
18. 'California Saga'
19. 'All Summer Long'
Source: www.msn.com
Added automatically
709 views