News
Viola Beach's album is released posthumously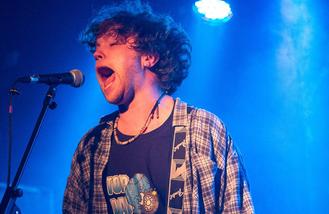 The debut album by British band Viola Beach has been released posthumously.
On 13 February 2016, the four band members - frontman Kris Leonard, guitarist River Reeves, bassist Tomas Lowe and drummer Jack Dakin - and their manager Craig Tarry were tragically killed in an incident on the E4 motorway bridge at Sodertalje, southwest of Stockholm, Sweden.
Following the accident the families of the young men have decided to go ahead and release the record they made before their untimely deaths, because it is what they would have wanted.
Kris Leonard's mother, Lisa Leonard, explained that left to her own devices she probably wouldn't have had the courage to get the music out there, but when she stepped back she realised it was the right thing to do in memory of her son and his friends.
Speaking to NME magazine, Lisa said: "I probably would have just buried my head in the sand, but I had to take a step back and see it's not about what I want - it's about what Kris would want.
"There are times when I'd sit in his bedroom and ask him, 'What do you want?' Obviously you know he's not going to answer, but you just get so desperate. You don't want to do the wrong thing."
Communion, the band's label, was also acutely aware of the sensitive nature of the situation, and Ian Grimble the co-founder of the label admitted that the process was difficult.
Ian explained that originally they weren't going to release anything "because we didn't want to look like we were cashing in".
However, the families of the Warrington band were resolved to release the record, so Communion decided to help them, and Ian said of the process: "The hardest part was going through the session where they'd quickly thrown down every song they had, so there was lots of stops and mistakes and general mucking about - that was difficult to listen to."
Earlier this year, Coldplay played tribute to the band during their headline slot at the Glastonbury Festival by playing the band's song 'Boys That Sing', and Chris Martin said the intention of the cover was to "create Viola Beach's alternate future and let them headline Glastonbury for a song".
River was just 19 at the time of his death, as was Kris, Jack was 24, Thomas, 27, and Craig was 32.
Kris' girlfriend Negin Karimi admits that it is difficult for her to listen to the record, but that the band ultimately made music to make people happy.
She said: "Some of the songs on the album I find harder to listen to than others. But we have to train ourselves to make it a positive thing, because this isn't an album that should make people sad they wrote songs to make people happy."
Viola Beach's self titles debut is available to download, buy and stream now.
Source: www.msn.com
Added automatically
717 views