News
Tim Commerford believes no other band compares to Rage Against The Machine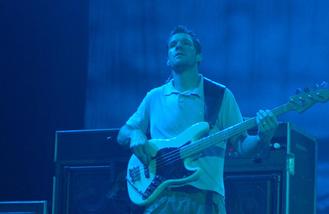 Tim Commerford believes no other band has got close to Rage Against The Machine.
The 48-year-old bassist recently apologised for paving the way for bands like Limp Bizkit, and inspiring "such b******t", although he has since admitted the slew of nu metal band's aren't as good as the original pioneers of the punk/hip hop sound.
Speaking exclusively to BANG Showbiz, Tim said: "Well I mean it's complimentary [that they aped our music]. I look back at the bands that were inspired by Rage and I don't feel like any have ever gotten close to Rage and hit it the way that we did.
"And really, the missing ingredient is what we bring with Wakrat [Tim's new ultra heavy punk band] it's punk rock. People would take rock and roll and mix it with hip hop and they would get sort of a version of RATM. We had a rock edge, but we were also a punk band, and so that weighs into our sound. The bands that came in after us are now gone."
Nu metal became huge in the late 90s and early 2000s, but has since seen a heavy decline, and Tim believes the worst thing you can do is start a band in order to make your fortune.
He explained: "It's like being in a band and going 'I'm gonna be in a band because I want to make millions of dollars', you're never going to succeed. And so I feel the same way about politics. I want be in a band and I want to have something to say."
Meanwhile, the musician has revealed he doesn't listen to "happy music", although the tracks he creates come from the heart.
He said: "It's from the heart and it's the way I feel. I don't listen to happy music, I don't smile when I listen to music - I never have. I like dark cords, I like dark subversive advertising.
"Clearly we are not trying to make music people are gonna like. No we're not, and I love that, I love the way that feels."
Wakrat's debut self-titled album is out on November 8.
Source: www.msn.com
Added automatically
628 views