News
Jonas Blue watches Fresh Prince before gigs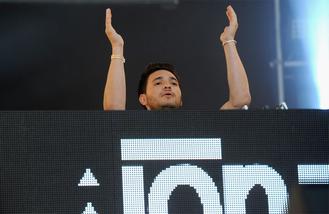 Jonas Blue prepares for his gigs by watching episodes of 'The Fresh Prince of Bel-Air'.
The dance music DJ-and-producer - real name Guy Robin - always spends a few hours relaxing ahead of his performances and his go-to TV show is Will Smith's 90s American sitcom.
When he gets to his hotel room, Guy likes to put his complementary bath robe on and watch Will's madcap antics with cousin Carlton (Alfonso Ribeiro) and Uncle Phil - who was played by the late James Avery.
Speaking to BANG Showbiz, he said: "I've got a couple of weird survival tips, things that I do to keep myself going. Whenever I get to the hotel I like to put the dressing gown on because it makes me feel like I'm at home. And then I like to check all my tunes and make sure everything is OK with them, then I'll get all my emails out of the way and then I'll stick some 'Fresh Prince' episodes on. It may seem a bit sad but I love it. It's an amazing TV show."
'The Fresh Prince of Bel-Air' came off TV in May 1996 after 148 episodes, however, if Guy is hoping for a new series he will be disappointed as Will has vowed that he will only return to the title role if "hell freezes over".
Guy's latest single 'Perfect Strangers' - which features JP Cooper on vocals - has become a monster hit and his debut track 'Fast Car', a tropical house re-imagining of Tracy Chapman's 1988 song, was a global smash.
Despite his growing success, Guy has not ramped up his rider requests yet and is happy to just have water and chicken left out for him backstage at his performances.
He shared: "I probably have the most boring rider, all I want is water. That's about it, I don't really need anything else. I just try and keep really healthy on the road, I make sure the hotel has good food and if there isn't then I'll get someone to get me some chicken and broccoli."
Last week, the British songwriter recently performed at mini music festival MTV Crashes Plymouth along with Rudimental and Jess Glynne among others.
The two-day music extravaganza will be shown on MTV's flagship UK music TV channels through the summer.
Source: www.msn.com
Added automatically
580 views