News
Jonathan Antoine wants to make a death metal record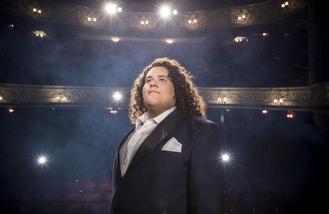 Jonathon Antoine would love to release a death metal record.
The classically trained tenor - who became a runner up in ITV's 2012 'Britain's Got Talent' - has revealed he has a real, and surprising, passion for death metal and would love to release a heavy metal track one day.
Speaking exclusively to BANG Showbiz about the possibility of working with other genres, the 21 year old said: "I have all these crazy ideas all the time. I'd love to do everything really, all genres of music.
"One thing I listen to habitually is very heavy metal, sort of progressive, technical death metal stuff. So I write some of that in my spare time and I'd like to, one day, maybe release some of that."
The singer also revealed that he would love to collaborate with one of his favourite bands, the British progressive metal act Tesseract.
When asked who he would most like to join forces with, he said: "It would be tough to say one, but I'd love to collaborate with a bunch of artists.
"There's a band called Tesseract that I really love, from Milton Keynes, that I would love to do something with."
Jonathan confessed he has wide tastes musically, and wouldn't rule out making a foray into the pop world either.
He explained: "[I would like to] do some standard pop, just because it's fun. I'm weird I love all music, as long as it's got a melody and a beat I probably like it."
However, the young musician concluded his favourite people to collaborate with are his friends because they have so much fun.
He said: "All in all the people that I really love to collaborate with are my friends. A lot of my friends are musicians and we have a lot of fun messing around and making stuff. That's my dream collaboration."
Jonathan's new non-death metal album 'Believe' will be released on August 19.
Source: www.msn.com
Added automatically
633 views