News
Ed Sheeran accused of copying Marvin Gaye song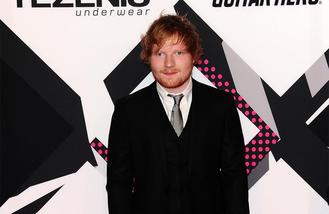 Ed Sheeran is being sued for allegedly copying elements of Marvin Gaye's 'Let's Get It On' hit.
Heirs of Ed Townsend, who co-wrote the song with Marvin - both of whom are now dead - have filed a copyright infringement lawsuit claiming Ed's 2014 tune 'Thinking Out Loud' has "strikingly similar" melody, harmony and rhythm compositions to the 1973 single, according to TMZ.
The lawsuit states: "The defendants copied the 'heart' of 'Let's' and repeated it continuously throughout 'Thinking'.
"The melodic, harmonic, and rhythmic compositions of 'Thinking' are substantially and/or strikingly similar to the drum composition of 'Let's'."
This comes just two months after Ed was hit with a $20 million lawsuit by Martin Harrington and Thomas Leonard who claimed his track 'Photograph' "note-for-note" copies their 2009 song 'Amazing', which was released by UK 'X Factor' winner Matt Cardle.
Richard Busch - who recently represented the family of Marvin in the 'Blurred Lines' copyright case against Robin Thicke and Pharrell Williams - filed a lawsuit on behalf of Martin and Thomas in federal court in Los Angeles on Wednesday (08.06.16).
The lawsuit stated: "The chorus sections of 'Amazing' and the infringing 'Photograph' share 39 identical notes - meaning the notes are identical in pitch, rhythmic duration, and placement in the measure.
"The songs' similarities reach the very essence of the work. The similarities go beyond substantial, which is itself sufficient to establish copyright infringement, and are in fact striking. The similarity of words, vocal style, vocal melody, melody, and rhythm are clear indicators, among other things, that 'Photograph' copies 'Amazing'."
Last year, Robin and Pharrell were ordered to pay $7.3 million in copyright infringement due to similarities between their number one single 'Blurred Lines' and Marvin's 'Got To Give It Up'.
However, the pair denied any wrong-doing and insisted they would battle the decision.
The payout was reduced on appeal but the Marvin Gaye estate receives 50 per cent of publishing and songwriting revenues from 'Blurred Lines'.
Source: www.msn.com
Added automatically
589 views