News
Selena Gomez surprises Australian fan with house visit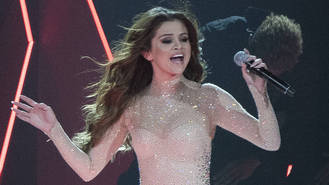 Selena Gomez shocked an Australian fan when she showed up at her house for breakfast earlier this week (beg08Aug16).
The 24-year-old singer, who is currently on tour in Australia, teamed up with local KIIS radio hosts Kyle & Jackie O to surprise a fan who launched a social media campaign to lure Selena to Oz, and her hard work was rewarded when the singer showed up at her house.
The young girl, named Sophie, was recording a video of her singing Selena's track Kill Em With Kindness for the radio station, believing they would send the footage to the singer herself, but what Sophie didn't know was Selena had showed up at her house and was waiting outside her bedroom door.
The Come & Get It singer opens the door while Sophie is singing and the fan can't hide her shock as tears fill her eyes. They chat, hug and pose for selfies and Selena praises Sophie for travelling all the way to Dallas just to see her show.
"I made a Facebook page to try and get her to Australia. I made the Instagram.... I did that to get other fans connected to each other," Sophie told the radio hosts. "I can't believe that just happened. I can't believe she took the time to come and see me."
This isn't the first time Selena has met up with fans while on the road - in June (16) she visited a seven-year-old girl, Audrey, who is battling a life-threatening bone marrow condition in Louisville, Kentucky. Selena took to her Instagram to post a video of herself and Audrey dancing and singing along to Love You Like A Love Song.
Selena finishes touring Australia on Thursday night (11Aug16) in Brisbane before moving onto New Zealand. After a short break, Selena will resume touring in September (16) in North America before completing treks in Europe, Asia and Latin America.
Source: www.msn.com
Added automatically
610 views