News
Ozzy Osbourne brands royalty lawsuit against him 'harassment'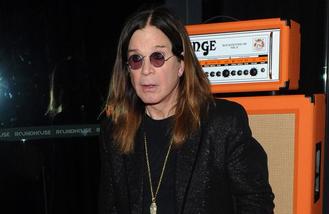 Ozzy Osbourne has branded Bob Daisley's lawsuit against him as "tantamount to harassment".
The Black Sabbath rocker is being sued by former bandmate Bob, 66, for alleged unpaid royalties for the hit song 'Crazy Train' - which was the first single from Ozzy's debut solo album 'Blizzard of Ozz' released in 1980.
Bob is suing the rocker and his company Blizzard Music Limited claiming that he is owed around $2 million in royalties.
Ozzy has now issued a statement saying that Bob has been paid millions of dollars for his contribution and also makes reference to a previous number of occasions when Bob has tried to claw back money and failed.
The statement from the 67-year-old singer reads: "For the past 36 years, Mr. Daisley has been receiving bi-annual royalty statements and checks from Blizzard Music, totalling in the millions of dollars, which have been routinely cashed.
"Mr. Daisley has audited Blizzard Music accounts over the years using several different auditing firms who found no discrepancies. He has previously filed lawsuits in the UK and the US and has lost on each occasion."
The 'Paranoid' hitmaker goes on to suggest that Bob is just trying to fund his retirement and that the new lawsuit is a form of harassment based on jealously over Ozzy's continued success.
The statement continues: "We understand that Mr. Daisley is now in retirement and that these funds are his main source of income, so it is his right to be diligent with his money, but after 36 years, this is tantamount to harassment.
"We would have hoped that after 36 years that Mr. Daisley would have lost his unhealthy personal obsession and resentment towards Mr. Osbourne's success. Blizzard Music and Mr. Osbourne plan to vigorously defend these proceedings."
'Crazy Town' is credited to Ozzy with Bob - who was Ozzy's songwriting partner on a number of albums - and the late guitarist Randy Roads getting co-credits on the track.
Source: www.msn.com
Added automatically
591 views