News
Kevin Jonas helps produce new DNCE game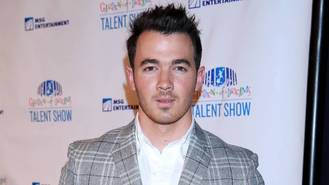 Kevin Jonas is getting back in the family business after helping to create a new mobile game for his brother Joe's band DNCE.
The eldest of the Jonas Brothers took some time out of the entertainment industry after the pop trio split in 2013, but he has since reteamed with Joe to help his new group conquer the mobile app world.
Kevin and the Cake By The Ocean hitmakers launched DNCE The Game on Thursday (06Oct16) and it quickly topped the Apple App Store chart as fans rushed to download the free program, which features in-app purchases.
Joe Jonas celebrated the news on Twitter on Friday (07Oct16), telling fans, "Thank you for making @Dnce the game #1".
After learning DNCE had also become a trending topic on the microblogging website, the group exclaimed, "#1 AND WE'RE TRENDING?!?! BEST FANS IN THE WORLD!!! DOWNLOAD OUR NEW GAME IN THE APP STORE NOW!!"
DNCE The Game requires players to help the animated bandmates "jump from balloon to balloon", helping them "ascend towards the heavens in search of greatness".
It also features new material from the stars, who will release their self-titled debut album in November (16).
Kevin, 28, has since revealed he and his co-creators at Philymack Games are planning further celebrity-driven games in the near future, although it is not yet known if the remaining Jonas Brothers member, Nick Jonas, will be among the stars to enter the gaming industry with the help of his big brother.
The mobile gaming app will keep Kevin busy until his wife Danielle gives birth to their second child. They announced the pregnancy in April (16) and recently revealed they are expecting a little sister for their two-year-old daughter Alena.
Source: www.msn.com
Added automatically
612 views