News
Chance The Rapper keen for more Kanye West collaborations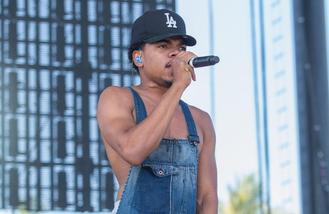 Chance The Rapper could make a collaboration album with Kanye West.
The hip-hop duo - who have previously worked together on Kanye's 'Life of Pablo' track 'Ultralight Beam' and 'All We Got' from Chance's latest record 'Coloring Book' - have spoken at length about the possibility of making an album together called 'Good Ass Job'.
Chance shared: "We were working a while ago - I came to his spot probably the day before me and the band [The Social Experiment] released 'Surf' in 2015 - and we had a long sit-down and talk and he did some narration for 'Surf' that we decided not to use but was so dope.
"And after that, the next time we met up I was starting my 'Coloring Book' project and we talked about collabing, and I brought up 'Good Ass Job' to him. And, you know, we talked about it, and during 'Coloring Book' we worked on a few songs that didn't make it on the project.
"And there's one that I will say is very crucial. It's a very dark cut."
However, Chance admitted that despite being a friend of Kanye, he does not know what the outspoken rap star has planned next.
He told Billboard: "I have no idea the timeline of Kanye albums. Kanye, from what I've heard from the media, he has a 'Turbo Grafx' album, right?
"He has a Drake album, and he has 'Cruel Winter'. What I'm talking about is something me and Kanye talked about in the studio and worked on as a skeletal track, you know?
"It could only be for 'Good Ass Job'. It definitely is not for any of those three albums that I just talked about."
Source: www.msn.com
Added automatically
594 views