News
Rod Stewart and Ronnie Wood are 'peas in a pod'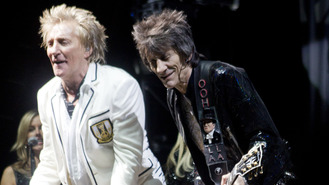 Rod Stewart and Ronnie Wood remain "incredibly close" friends.
According to Rod's wife Penny Lancaster, the 71-year-old rocker and Rolling Stones legend Ronnie catch up often.
"Ronnie and Rod are very close and like peas in a pod - it's incredible when they get together - they sort of morph into one person!" Penny told Britain's Closer magazine.
Ronnie, 69, recently extended his family further when wife Sally Humphreys, 38, gave birth to their twins Gracie and Alice in May (16). Penny and Rod have yet to meet the babies, but are more than excited about the prospect. And Penny adds that she is thrilled Ronnie and Sally were on the same page when it came to having children.
"We said, 'Look Ronnie, if you're going to marry a young girl, she's going to want to have babies. And even if young girls say at the time, 'No, no I don't mind,' then they hit a certain time in their life and it's like, 'Oh, now I do want a baby!'" she said. "Thankfully they did have the babies. We've been away on tour and haven't met them yet… so we can't wait to get our hands on them!"
As well as their own children, Penny and Rod are kept busy with their respective careers. And with Rod's success showing no sign of waning, Penny shares that her other half has no intention of hanging up his microphone.
"The only time I've ever been conscious of my age was when I was trying to have children, which proved difficult," she said. "But I have my two lovely boys now, so life couldn't be better. It's the same with Rod - he doesn't see retirement as a word in his vocabulary because he loves what he does. This is a wonderful time of my life."
Source: www.msn.com
Added by AutoAdmin
323 views