News
Jay Z is nominated for the Songwriters Hall of Fame 2017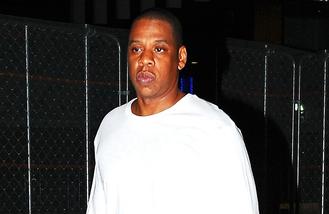 Jay Z has been nominated for the Songwriters Hall of Fame next year.
The 46-year-old rapper is among 24 other artists in the running to be credited for his success in the music industry in the 2017 cycle of nominations, which would make the 'Run This Town' hitmaker the first ever rapper to be selected for the honour.
The Songwriters Hall of Fame is awarded to artists who have boasted a successful career at the helm of the music industry spanning over 20 years.
And according to USA Today, Jay Z - whose real name is Shawn Corey Carter - will go head to head with the 'Like a Virgin' hitmaker Madonna, Bryan Adams, George Michael, Cat Stevens and Gloria Estefan.
The late musician Sylvester 'Sly Stone' Stewart, who died last year, is also in the running to receive a posthumous accolade for his work with Barry McGuire, Johnny Rivers, as well as other recognised artists.
Jay Z, who unveiled his debut album 'Reasonable Doubt' in 1996, has since had a number of hit records including his LP 'The Blueprint' and 'The Black Album', which were recognised as the greatest albums of all time by Rolling Stones magazine.
The New York-born star - who was crowned the Greatest MC of All Time in 2006 by MTV - has also made a large contribution to the recording industry with the launch of the entertainment company Roc Nation, which was founded in 2008 and has seen the likes of T.I, J Cole and Rihanna sign to the label.
Jay Z - who has four-year-old daughter Blue Ivy with his wife Beyoncé - follows in the footsteps of music legends Stevie Wonder, Sir Andrew Lloyd Webber, Dolly Parton and Keith Richards who have previously been honoured.
And it has been reported voting ends on December 16 and will see five single songwriters or groups inducted six months later, on June 15 next year, at the gala, which will take place in New York.
The Songwriters Hall of Fame nominations are as follows:
Non-performing songwriters
Kenneth Edmonds
Randy Goodrum
Jimmy Jam & Terry Lewis
Tony Macaulay
Max Martin
Kenny Nolan
Dan Penn and Spooner Oldham
Paul Overstreet
P.F. Sloan and Steve Barri
William Stevenson
Allee Wills
Maury Yeston
Performing songwriters
Bryan Adams
Shawn 'Jay Z' Carter
Peter Cetera, Robert Lamm and James Pankow
Gloria Estefan
David Gates
Vince Gill
Cat Stevens
Robert "Kool" Bell, Ronald Bell & George Brown (Kool & The Gang)
Jeff Lynne
Madonna
George Michael
Sylvester 'Sly Stone' Stewart
Source: www.msn.com
Added automatically
571 views