News
Oasis thought Trainspotting was about trains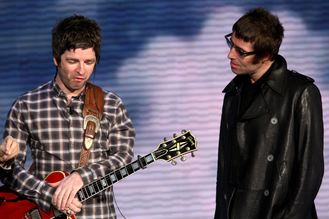 Looking at Trainspotting's soundtrack, it's kind of weird that Oasis never featured.
Surely they would've fitted right in alongside the likes of Damon Albarn, Iggy Pop, New Order and Pulp on the 1996 soundtrack?

Well, apparently they were asked but ended up turning it down. Why? They took the film's title all too literally.

According to The Telegraph, in a Q&A with Trainspotting producer Andrew Macdonald and costume designer Rachel Fleming, the whole story unravelled.

"Danny [Boyle] is from near Manchester and he was very keen to have Noel Gallagher do something but there was a reason why he didn't do it," said Macdonald.

"He came to the launch party in Cannes, but I don't know why he didn't do a piece of music."

Fleming added: "I met Noel [Gallagher] at a thing the other week, and he said to me, 'I would have done something but honestly I thought it was about train spotters. I didn't know'.

"That's what he actually said."

The upcoming Trainspotting 2 is loosely based on writer Irvine Welsh's sequel Porno. Ewan McGregor, Ewen Bremner, Jonny Lee Miller and Robert Carlyle are all returning along with original director Danny Boyle.
One person who won't be returning is doomed character Tommy, but Kevin McKidd has said that he'll make some kind of an appearance in the sequel.

Trainspotting 2 arrives in cinemas on January 27, 2017.

Source: www.msn.com
Added automatically
542 views