News
Melanie Chisholm: 'Stop focusing on pregnant Geri Horner's age!'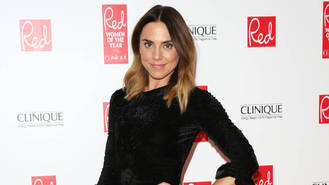 Melanie Chisholm has blasted the ageist reporting of 44-year-old bandmate Geri Horner's pregnancy.
The singer announced earlier this month (Oct16) that she is expecting her second child, her first with husband Christian Horner. Following the news, much was made of Geri's age - something her pal Melanie was less than impressed by.
"All this fuss that was made over her being 44 really p***es me off," Melanie told Britain's The Sun newspaper. "I'm completely aware that as you get older your fertility drops and it's harder to get pregnant, but she's a healthy woman and yeah, I thought that was quite rude."
Melanie has hit headlines herself in recent months due to her decision not to be involved with the Spice Girls reunion next year (17). While Victoria Beckham's fashion career was her reason for ruling herself out of the comeback, Melanie's choice saw her criticised by her ex bandmates.
In particular, Melanie Brown, known as Scary Spice, made her feelings very clear - unfollowing Chisholm on Twitter.
"Things were tough between me and Mel. The unfollowing thing, I know Mel and she's hot-headed," she continued. "I'd never done anything to upset her specifically, so I don't know why she did it.
"But we've built bridges and we're absolutely fine and friends. And she's apologised to me for anything that happened way back 20 years ago."
Melanie recently revealed that Geri's pregnancy helped her and her former bandmates end their feud. The girls are all parents, and their bond as mothers was another factor which helped them put their differences behind them.
"We've watched each other's children grow up and we know each other's parents and siblings. Sometimes I'm not very happy with the way some of them behave but if any of them ever needed me I'm there for them and they're there for me."
During her interview with The Sun, Melanie also spoke about Robbie Williams' wife Ayda Field's claim that her spouse slept with four out of five members of the Spice Girls during their heyday. "The thing with myself and Robbie is we've had a very similar experience so there's a bit of a kinship there, but this is something I know nothing about.
"I haven't seen Robbie or his wife since that claim but our paths do cross occasionally. I'll be quizzing them on that."
Source: www.msn.com
Added automatically
606 views