News
Professor Green curbs partying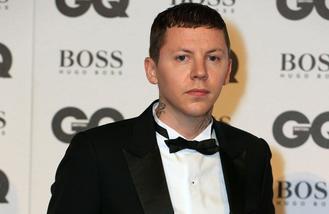 Professor Green has curbed his partying ways.
The 32-year-old rapper - whose real name is Stephen Manderson - has long traded in boozy nights in favour of going home early after he came to realise early this year that no one is in a "happy" state of mind when they are off their face on drugs and alcohol.
In an interview with The i newspaper, he explained: "Nowadays people talk about 'sesh life' and getting on it [drink and drugs], and everyone is. It's frightening. It's not all right. I've sat in rooms before and people are 'having fun' but no one's happy. Then you realise that you're in that room as well. So there came a point this year when I just cut off everyone. I started going home early. I don't really want to be on my own, but I'd rather that and try and be OK with my own company."
Pro has just released the video for his tenth single 'One Eye On The Door', which tells the story of the rapper's "messy" night out with mates at a squat party.
In the short his conscience - which is depicted by a ghoulish apparition in a female form - is telling him to head home, but he keeps ignoring it and the more he ignores it, the more it haunts him.
The video was produced by Diztortion and directed by his long-term collaborator Henry Schofield, and features Pro's real-life friends, IQ, Dream McLean, Damian Brambley and Memet Mustard, to name a few.
Speaking about the video, he said:"I thought the only way to depict a convincing party in the video, was to have a party. So I invited my mates along to the shoot. Luckily the camera men didn't drink as much as we did ..."
And in order to help him switch off from the outside world, he's even invested in a retro phone that only makes and receives calls and texts.
He said: "It's a ball ache writing out texts, but beyond that it's nice not to have a connection to the digital world."
'One Eye On The Door' marks his first single since the release of the 2014 platinum hit 'Lullaby' (featuring Tori Kelly) and is available to buy now on iTunes and to stream across all platforms.
Source: www.msn.com
Added automatically
661 views