News
T.I.: 'I joined Trump Tower protest for my kids'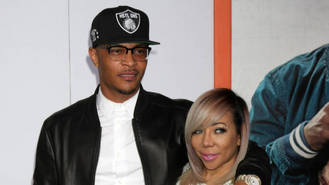 Rapper T.I. protested outside New York's Trump Tower for the sake of his children.
The U.S. star, who recently changed his stage name to T.I.P., was recording in the Big Apple on Wednesday (09Nov16) when a crowd gathered outside Trump Towers the day after Donald Trump won the presidential election. Republican Trump beat Democrat Hillary Clinton in the race for the White House job.
Taking to his social media accounts, T.I.P., real name Clifford Harris Jr., shared a video of himself joining the protesters, captioning it: ""she got more votes" "we reject the president elect" The people ain't goin for it.... I'm right here wit em!!!! #USorELSE."
And on Thursday evening's Jimmy Kimmel Live! he further explained his actions.
"Nobody in their right mind can ever assume that just gathering and going somewhere and showing your incredible disdain for a decision that the nation has made that that will actually do anything immediately," he told the late night host.
"I voted and I've done everything that I could prior to now, but after the decision of the election happened, I just want to be able to look my kids in the eyes and make sure that they know that I did everything that the Constitution allowed me to do to show my objection to this decision."
The 36-year-old is a father to three children with his wife Tameka Cottle. He also has three other children from previous relationships.
T.I.P. uploaded four videos from the protest, including one of him shaking his head telling the camera "this is bad".
In another he commented: "This ain't supposed to be how people react to the election of a president. This ain't what we built up on, man. This ain't what we about. This is some bulls**t."
Lady Gaga and Meek Mill also joined in with protests.
Source: www.msn.com
Added automatically
728 views