News
Obsessed Taylor Swift fan arrested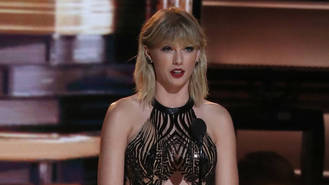 A man accused of harassing Taylor Swift has been arrested in Austin, Texas after allegedly violating a restraining order.
Frank Andrew Hoover, 39, reportedly attempted to corner the Blank Space star and get a photograph of her as she made her way to a private jet following her only show of the year last month (Oct16) in Austin.
He has been accused of breaking the terms of a lifetime restraining order, which forbids him from coming within 500 feet (152 metres) of Swift.
He also reportedly sent Swift's father Scott a series of unsettling emails between 28 August (16) and 27 October (16).
Authorities in Texas recently issued a warrant for Hoover's arrest, and on Thursday (10Nov16), he was taken into custody by officers from the Austin Police Department, reports TMZ.com.
He was charged with repeated violation of the protective order and placed on $100,000 (£79,300) bail.
If convicted of the felony, Hoover faces up to 10 years behind bars.
According to the Austin-American Statesman, among the messages Hoover sent to Scott Swift included one, in which he openly vowed to ignore the restraining order.
"I've placed my life in your hands as you could easily file suit for my violation of the lifetime protective order," he allegedly wrote. "Despite the lifetime ban... I must continue forward as I have no other path in life."
Another, from September (16), read: "Without her (Swift), I walk the earth alone forever and she'll continue to experience failed relationships that break her heart."
It's not the first time this year (16) police have had to act to keep Taylor safe - a man was reportedly arrested at the gates of her Rhode Island home in July.
Source: www.msn.com
Added automatically
594 views