News
Elton John at ease in front of the camera thanks to photography collection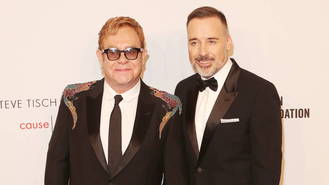 Elton John's photography collection has helped him feel more comfortable in front of the camera.
The British singing legend has been working in the music industry for nearly five decades, and over that time has posed for countless record sleeves, magazine editorials and photoshoots.
But It wasn't until he started to collect photography in 1991 that he really felt at ease having his own portrait taken.
"Its' incredible, it's helped me have my photograph taken in a better frame of mind. Let's put it like that," he smiled to the BBC.
"I don't know (why I don't like having my photo taken). Never have, even as a little boy. It's like posing; I don't like posing very much."
Elton's collection is now made up of more than 8,000 images, 191 of which he has lent to British art institute the Tate Modern for new exhibition Radical Eye: Modernist Photography from the Sir Elton John Collection.
Rare vintage prints from over 70 artists and are on show from seminal figures including Brassai, Imogen Cunningham, André Kertész, and Dorothea Lange. A group of Man Ray portraits are being exhibited together for the first time, as well as portraits of Matisse, Picasso, and Breton.
The new showcase marks the first time the 69-year-old has shown his photographs outside the U.S.
"We've had one exhibition in Atlanta and that's it. It's all been on my walls in my apartment or in my house," he explained. "And so it's an honour to be here at the Tate in this new wing. I used to be very snobbish about digital photography and I'm not anymore."
Elton and his husband David Furnish buy at least one photograph every week, purchasing from both established and aspiring lensmen. And while he loves to admire the work of others, Elton has never been tempted to get behind the camera himself.
"No never, I have cameras but I'm not interested. I want to see the image, I'm not interested in taking it," he stated.
He's also not influenced musically by photos: "I'm only inspired by the written word."
Source: www.msn.com
Added automatically
631 views