News
Robbie Williams sexual harassment case dropped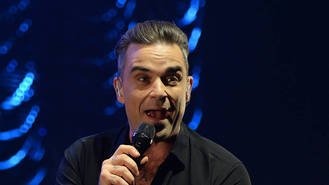 A sexual harassment lawsuit filed against singer Robbie Williams and his wife Ayda Field has been thrown out of court.
The former Take That star and his spouse were sued by their former personal assistant Gilles De Bonfilhs over claims she made him uncomfortable by walking around naked and boasting about her sex life. He also alleges they "wrongfully terminated" his employment in January, 2015, and was seeking more than $25,000 (£19,000) in damages from the couple for embarrassment, humiliation and mental and emotional distress.
Williams and his wife denied their former assistant's allegations, calling the claims "despicable lies", and countersued for fraud and false invasion of privacy. They claimed De Bonfilhs was fired after three months for his "total job abandonment and numerous other instances of wrongful conduct".
A trial had been scheduled to take place on 16 February (17), with Williams and Field both expected to give evidence, but a spokeswoman for Los Angeles Superior Court confirmed the case has now been dismissed.
She added that a dismissal had been requested by De Bonfilhs and his lawyer on 22 December (16), and the case was dismissed with prejudice - meaning it can never be brought back to court.
De Bonfilhs' legal representative Yitz Weiss declined to comment on whether the case was dismissed after a settlement was agreed, while lawyers for Williams and Field did not respond to requests for comment.
The case dismissal will likely come as a welcome relief to Williams, who recently admitted he has been feeling "burnt out" due to a busy promotional schedule for his album The Heavy Entertainment Show and the drama in his personal life.
"I'm burnt out. I love my job and my life but I have been mega busy," he said during a gig in December (16). "I realized tonight: 'Oh my God there is nothing in the tank.'"
Williams has children Theodora, four, and two-year-old Charlton with his wife.
Source: www.msn.com
Added automatically
575 views