News
Ed Sheeran determined to top Adele's sales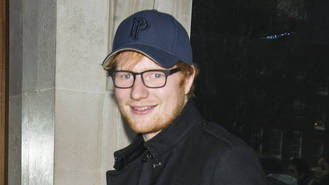 Ed Sheeran's goal is to sell more records than Adele.
The Thinking Out Loud singer's most recent album X topped the charts in fifteen countries and became the third biggest-selling album of the decade so far in the U.K. with more than 2.8 million copies. He was beaten by Adele, whose albums 21 and 25 are currently in the first and top position respectively, and while Ed knows it will be a challenge to surpass her sales figures, he has his heart set on doing it.
"Adele is the one person who's sold more records than me in the past ten years," he told British GQ magazine. "She's the only person I need to sell more records than. That's a big f**king feat because her last album sold 20 million. But if I don't set her as the benchmark then I'm selling myself short."
He adds he doesn't see her a competition creatively because they produce different music but it is still "a race" when it comes to sales. However, when it comes to similar singer/songwriters, he is confident he will easily beat them in the sales race.
"In a 100m sprint to get a No 1 album I just know I'm going to win," he boldly stated. "I don't care who's doing what. I just know I'm going to win. I'm going to make sure I come first."
His ambition doesn't stop there - he also told the magazine he wants to be the biggest male musician in the world, like his pal Taylor Swift, who wants be the biggest female artist.
Explaining their drive, he said, "There's an underdog element to it. Taylor was never the popular kid in school. I was never the popular kid in school... Then you get to the point when you become the most popular kid in school – and we both take it a bit too far.
"It also comes from always being told that you can't do something and being like, 'F**k you. I can.'"
Ed's third album ÷ (divide) is due for release on 3 March (17).
Source: www.msn.com
Added automatically
599 views