News
Jamiroquai return with eighth album Automaton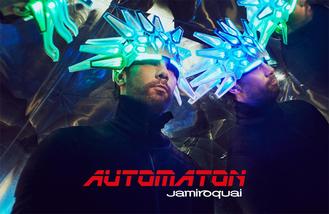 Jamiroquai will release their eighth album 'Automaton' on March 31.
The Grammy Award-winning soul funk band - who formed in 1992 - have announced they are returning to the music business with their first new album in seven years which singer Jay Kay has revealed is inspired by the "rise of artificial intelligence".
Speaking about the LP, Jay Kay said: "The inspiration for 'Automaton' is in recognition of the rise of artificial intelligence and technology in our world today and how we as humans are beginning to forget the more pleasant, simple and eloquent things in life and in our environment including our relationship with one another as human beings."
The album - which is being released by Virgin EMI - has been written and self-produced by Jay, 47, and Jamiroquai keyboard player Matt Johnson.
The first single 'Automaton' had its worldwide radio premiere on 26 January 2017.
Jamiroquai - who are celebrating their 25th anniversary as a band - have also announced a number of live dates and will be playing a unique headline show at The London Roundhouse on the day of the album's release. It will be preceded by their first live show in six years at La Salle Pleyel in Paris on March 28.
The 'Space Cowboy' hitmakers have also been confirmed for a host of European festival dates.
Jamiroquai live dates:
Tuesday 28 MarchLa Salle Pleyel, Paris
Friday 31 March The Roundhouse, London
Thursday 25 May Tokyo International Forum, Tokyo, Japan
Jamiroquai 2017 festival dates:
Sat 27 / Sun 28 May Jazz Festival, Seoul, South Korea
Saturday 17 June Release Athens 2017, Athens, Greece
Sunday 9 July North Sea Jazz, Rotterdam, Netherlands
Tuesday 11 JulyFirenze Summer Festival, Visarno Arena, Florence, Italy
Friday 14 July Pori Jazz, Pori, Finland
Sunday 16 July Musilac, Aix-Les-Bains, France
Tuesday 18 July Moon & Stars, Locarno, Switzerland
Saturday 22 July Colours of Ostrava, Czech Republic
Saturday 5 August Sudoeste, Portugal
Saturday 12 August Boardmasters, UK
Source: www.msn.com
Added automatically
606 views