News
Goldie: Life's like a reality show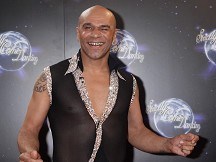 Goldie has revealed his childhood in care prepared him for appearing in lots of reality TV programmes.
The musician, who was born Clifford Price and put up for adoption as a toddler, told the Independent his whole life had been "like a reality show".
He said: "Someone, somewhere has a document saying 'Clifford Price is a bit angry today and is smashing up his room because he doesn't know where his old man is or his old dear...'"
He went on: "I've been moved around my whole life and it's been documented, so if you get paid loads of money to go on TV and act like a right idiot... great stuff!"
Goldie is releasing FabricLive 58, his first mix CD in three years, but he admitted he doesn't think it's "everyone's cup of tea".
"If you don't want to listen to it, jog on. Don't care. Go and listen to something else - because there's something else for young kids, maybe."
Source: music.uk.msn.com
Added automatically
1081 views