News
O'Connor offers Miley Cyrus advice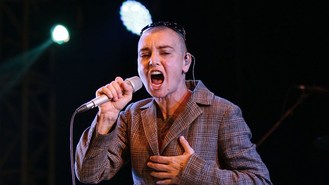 Sinead O'Connor has written an open letter to Miley Cyrus offering her advice on how to survive in the music industry.
After Miley told Rolling Stone she had based her video for Wrecking Ball on Nothing Compares 2 U, Sinead responded on her website.
She wrote: "I am extremely concerned for you that those around you have led you to believe, or encouraged you in your own belief, that it is in any way 'cool' to be naked and licking sledgehammers in your videos. It is in fact the case that you will obscure your talent by allowing yourself to be pimped, whether it's the music business or yourself doing the pimping...
"I am happy to hear I am somewhat of a role model for you and I hope that because of that you will pay close attention to what I am telling you...
"They will prostitute you for all you are worth, and cleverly make you think it's what YOU wanted and when you end up in rehab as a result of being prostituted, 'they' will be sunning themselves on their yachts in Antigua, which they bought by selling your body and you will find yourself very alone."
Sinead also told Miley she had enough talent not to need to exploit herself and offered advice on her look.
She wrote: "Whether we like it or not, us females in the industry are role models and as such we have to be extremely careful what messages we send to other women. The message you keep sending is that it's somehow cool to be prostituted.. it's so not cool Miley.. it's dangerous.
"Women are to be valued for so much more than their sexuality. We aren't merely objects of desire. I would be encouraging you to send healthier messages to your peers... that they and you are worth more than what is currently going on in your career. Kindly fire any m*********** who hasn't expressed alarm, because they don't care about you."
Source: music.uk.msn.com
Added automatically
942 views