News
Paul Potts: Fate had it in for me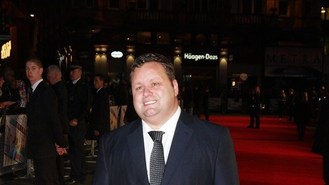 Paul Potts has told of his lifetime plagued by ill health and the threat it poses to his singing voice.
The Britain's Got Talent winner, whose story has been made into film One Chance starring James Corden, told the Daily Mirror how a string of accidents, falls and getting run over led to him discovering his most serious problem.
Paul, who had a CT scan after complications from appendicitis, said: "I heard the doctor mutter the words, 'tumour', and, 'malignant', and began to think, 'Oh my God, have I got a tumour or cancer?'
"They'd discovered this massive 29cm-long tumour on my adrenal gland about 1in away from my liver. Initially they weren't sure whether it was malignant, so I had no idea if it was terminal.
"They told me they'd have to thread the tumour through my vocal chords and if they'd got that wrong by a millimetre and scratched the chords, my voice would have been ruined.
"The operation in March 2003 lasted about seven hours and they had to cut a huge fold through my chest and pull it back like a page to operate, so I've still got an enormous scar."
The tumour turned out not to be cancerous but Paul, 43, also told how he was knocked off his bike shortly afterwards: "At this point, I felt like fate had it in for me."
He explained that despite his health worries, he was trying not to get stressed about his condition, Cushing's disease, which had caused the tumour to grow.
"There's always a chance the tumour may return as they don't know why it grew in the first place and they don't know where it would go if it came back.
"There's not a lot I can do to minimise the risk and if it happens, it happens. If you worry about things you're more likely to get them, so there's no point getting stressed about it."
Source: music.uk.msn.com
Added automatically
928 views