News
Lostprophets star admits abuse plot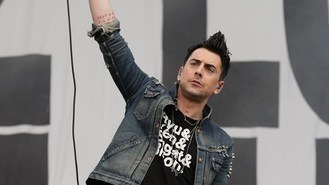 Rock singer Ian Watkins has been labelled a "determined and committed paedophile" after he pleaded guilty to a string of sex offences, including the attempted rape of a baby.
The drug-crazed former lead singer with multi-million selling band Lostprophets plotted the abuse with two mothers in a series of text and internet messages in which he spoke of his desire to "cross the line" and to intoxicate one of his victims by blowing crystal-meth smoke into the child's face.
Watkins, 36, from Pontypridd, south Wales, pleaded guilty to a string of sex offences he had previously denied in a last-minute change of plea ahead of what would have been his trial at Cardiff Crown Court.
The charges included sexually touching a one-year-old and encouraging a crazed groupie to abuse her own child during a sordid webcam chat.
Watkins also admitted possessing and making child porn as well as launching the plot to rape a baby.
The disgraced rocker was originally charged with actual rape but insisted sex with the child did not take place during a drug-fuelled binge he claims he was on at the time.
Watkins originally faced 24 separate charges, including two of actual child rape.
He pleaded guilty to 11 charges today, nine of which were unchanged, and two of attempted baby rape.
Prosecutor Christopher Clee QC told the judge that both of the attempted rape admissions were accepted, partly to spare a jury the ordeal of having to watch sordid video evidence of the singer's crimes.
The prosecutor said there was an argument regarding what key video evidence seized from Watkins's laptop actually showed.
"From the footage, there is an argument as to whether the full offence (of rape) is made out," he told judge Mr Justice Royce.
"If it is made out, it is minimal. There is so little difference between the full attempt and the attempt as to make no difference.
"We are prepared to accept the pleas as tendered."
He also told the judge that the prosecution had in mind the effect on the jury of watching the explicit video footage.
Previous hearings discussed arranging counselling for jurors who might need it.
As sentencing arrangements were discussed in court, a pale faced and grey haired Watkins began shaking in the dock.
Mr Clee gave details of a sickening plot to turn babies into sex objects.
He said: "Ian Watkins was the lead singer of a successful band called the Lostprophets.
"He was also a determined and committed paedophile engaged in serious sex offences involving two babies."
Mr Clee read aloud to the court a series of text and internet messages between Watkins and two female co-defendants.
Watkins and Woman A swapped messages where the frontman spoke of his sick desire to "make him mine" and to "cross the line".
They also spoke of plans to blow crystal-meth smoke into the child's face at a secret meeting in a Cardiff hotel.
Mr Clee also gave details of a sickening 17-minute video involving Watkins and Woman A.
Mr Clee said camcorder footage was shot in a London hotel room which showed Watkins perform a sex act on the child.
Computer analysts found the footage uploaded to an online storage facility.
The court heard that the tattooed singer claims he has no memory of the key video evidence.
Mr Clee said that when police raided the home of Watkins following his arrest in September last year they also found a box of camcorder cassettes.
These proved to hold recordings of filmed sex acts with under age girl fans, one of whom he met up with in a New York hotel.
Watkins, who pleaded guilty to 13 offences in total, will be sentenced on December 18 at the same court.
They included two counts of attempted rape and sexual assault by touching on Woman A's baby.
He also confessed to aiding and abetting Woman B to sexually abuse her own child, two conspiracy charges.
And he pleaded guilty to possessing and making indecent photographs of children as well as having extreme pornographic material involving bestiality on his computer hard drive.
Following Watkins' sudden change of heart, both two-female co-defendants also confessed to carrying out sex crimes against their two children.
A pool of 22 potential jurors smiled in relief as they were told by Mr Justice Royce that a trial was no longer taking place - and their services would no longer be required.
Source: music.uk.msn.com
Added by AutoAdmin
728 views