News
Louis Tomlinson's family 'close to pregnant Briana'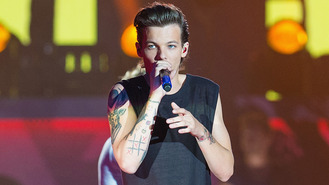 Louis Tomlinson's loved ones have reportedly welcomed pregnant Briana Jungwirth into the family with open arms.
The One Direction heartthrob is expecting a baby with Briana following a brief fling. Although they aren't together, both are said to be excited about the prospect of becoming parents, with Louis' mother Johannah and sister Félicité also happy about the baby.
Briana has been spotted at several of the group's On the Road Again Tour shows recently, with Louis' family keeping a close eye on her.
"Briana snuck in 30 minutes into the show and stood watching Louis intently," One Direction fan Jen Brookes told Britain's Heat magazine after spotting Briana at a London, UK, date, and two others. "I spoke to her and congratulated her on the baby. She thanked me and looked really happy.
"Johannah and Félicité kept cuddling up to her – they were chatting loads and seemed really close. After she was spotted at the first gig, she kept a lower profile at the other shows and sat in seating specially reserved for Louis' family."
Although Louis and Briana get along well, it's not thought they are planning to start a romantic relationship with each other.
The singer will be fully involved in his baby's life though and has apparently already taken steps to ensure mother and baby have somewhere to live once the tot is born.
"Louis is sorting the house for Briana and the baby in LA and is planning on being there as much as he can," an insider told the publication. "He's counting the days until the band's hiatus so he can spend more time with them. When he starts working again next year, he'll split his time between the UK and LA."
This week (beg05Oct15) Louis and his bandmate Liam Payne were forced to deny rumours of a rift between them after Liam was seen apparently pushing Louis on stage. Their representative insisted they were just having fun together and hadn't fallen out.
Source: www.msn.com
Added automatically
592 views