News
Howard Jones wants to duet with Sir Paul McCartney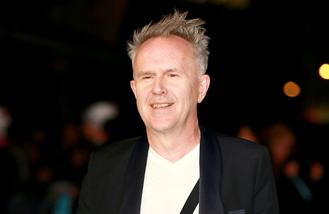 Howard Jones would "love" to collaborate with Sir Paul McCartney.
The 61-year-old singer songwriter has admitted he is desperate to work with the former The Beatles band member on a track in the future because the pair are good friends and get on "really well".
Speaking exclusively to BANG Showbiz at this year's BMI Awards, which was held at London's The Dorchester hotel on Monday (10.10.16), he said: "I'd love to work with Sir Paul McCartney, Ive met Paul and we got on really well."
And the 'What Is Love' hitmaker - who made his breakthrough in the 80s with his LP 'Human's Lib' - has admitted he constantly has to "adapt" to suit the ever-changing music industry.
He explained: "Among all the changes you have to adapt and gear up for what's going on, I turned on to doing a lot more live shows.
"I'm getting new fans all the time. I've done a lot of shows in the US I did a Jimmy Fallon Show. It's what I love doing so that's why I do it."
Meanwhile Howard, who wrote the song 'Hero In Your Eyes' from the 'Eddie The Eagle' soundtrack, has revealed Gary Barlow first approached him about the song, although the duo never met in person whilst recording the track.
He said: "Gary asked me to get involved with the Eddie the eagle project, and we tried so hard to get together and to write together and do something in the same room. But I was always on a different continent but we spoke on the phone a lot and he just loved what I had done."
And Howard is currently writing a song for an upcoming film starring Emily Blunt, Danny DeVito and Sir Ian McKellen called 'Animal Crackers'.
He said: "I'm writing a song for an animated film called Animal Crackers at the moment. It's going to be out next year and I'm writing for a specific scene in the film and that's almost finished.
"It's a first time director called Scott Sava, he's got huge backing from Chinese investors and it's got Emily Blunt in it and he's got an amazing cast of people, Sir Ian Mckellin, Danny DeVito."
Source: www.msn.com
Added automatically
573 views