News
John Lydon: 'I've never sold my soul'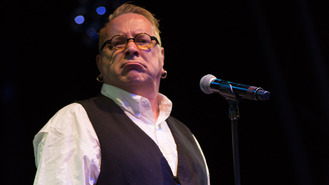 John Lydon chose to walk away from popstar fame and fortune as it was too boring.
The Sex Pistols frontman became a household name in the '70s thanks to his bands anarchic music and attitude. John didn't court fame for long though, and after leaving his stage persona Johnny Rotten behind upon exiting the band, John formed lesser known group Public Image Ltd.
"I am not a pop star," he declared to The Big Issue. "I deliberately walked away from that side of life, which was there, open and willing to accept me. But I didn't want it. I didn't want to be another pop star making millions. It is just boring. Impossible.
"I couldn't justify it because I question myself all the time about whether what I am doing is the right thing. And once you have sold your soul to the money bags, that is it. You can't buy it back. I'd end up another one of those horrid comedians that do those chat shows."
Despite declaring he'd never perform again with the surviving members of the Sex Pistols, in the '90s he did reunite with his former bandmates, including original bassist Glen Matlock, who was replaced by the late Sid Vicious during the band's heyday.
Talking about lost friends, as well as his late parents, John admits he continues talking to them, even though they've passed.
"My mum and dad may have died but they are still very much alive in my head. And their expectations and beliefs in me won't go away easily, if ever," he shared. "It is what keeps me sane. There is so much more I wanted to say to them. And that is the conversation I have in my head.
"The same with people who died around me, mostly unnecessarily, through taking drugs. People don't go away from me, they stay forever. That is very important, especially when they are dead. When they are still alive they can f**k off!"
Source: www.msn.com
Added automatically
573 views