News
Michael Buble exposes underwear during lively TV interview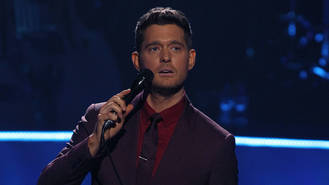 Michael Buble exposed his underwear and revealed his sexting past in a lively TV interview on Thursday night (27Oct16).
The 41-year-old singer appeared on Andy Cohen's Watch What Happens Live, and dropped his usual squeaky-clean demeanour to show off a naughtier side.
Things kicked off when a caller rang in and asked Michael if it's true he only ever wears coloured underwear. Keen to prove the fact, the Feeling Good singer took a peek down his trousers while sitting down, before standing up and unbuttoning his bottoms to show his royal blue boxers to the audience.
"Oh my god Michael Buble is like…that was so exciting," host Andy said as he clapped in delight.
Other questions on the night included whether Michael has ever sent a naughty picture to a potential partner, to which the singer replied: "The question isn't what have I sent, it's more what haven't I sent."
When Andy asked him if he had ever sent a "D-pic" - a snap of his nether regions - Michael laughed: "Well, look in your inbox later tonight."
When it came to playing the game Shag, Marry or Kill, Andy gave Michael choices out of Shania Twain, Barbra Streisand and Mariah Carey as to who he would sleep with, wed or murder in a hypothetical scenario.
Deciding he would marry Shania and Barbra and kill Mariah, Michael added: "Yeah, I'd shag them all to be honest!"
The Canadian crooner then told Andy on the programme that humour is a big part of his stage performances, but admitted one jibe about Kim Kardashian caused him some problems when Kris Jenner attended the recording of one of his Christmas specials.
"Her mum gave me a ton of s**t about a joke I made about Kim Kardashian," he said. "And I had to explain it to her. I was on stage and I made a joke - it was just after the tape, the Ray J thing - and I said, 'You know ladies and gentleman, please welcome to the stage Miss Kim Kardashian'. So they all thought she was coming, and she wasn't, and I was like, 'No, I'm just messing with you. That b***h is never coming on my stage because she never put me in that video. I'm so jealous of Ray J.'
"I was putting myself out there. All that her mum read is that I called Kim a b***h and they weren't happy about it."
But after explaining the meaning behind the joke to Kris, he redeemed himself.
"I totally explained. She went, 'Oh that makes me feel… Because I wondered what I did to you to make you (say that),'" Michael giggled.
Source: www.msn.com
Added automatically
681 views