News
Foo Fighters doc 'tough to make'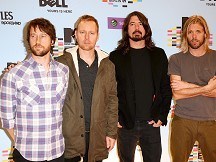 Taylor Hawkins and Pat Smear have admitted opening up for a Foo Fighters documentary was a testing process.
The pair feature in the film Back And Forth, now out on DVD, where the Foos reveal intimate details about themselves on camera.
"I'm just kind of past it," drummer Taylor, 39, said, referring to the interest in the private lives of the band's members that the film drummed up. "I never was that interested in anything other than music being a big part of what people see or know about me.
"Obviously I have things I'm not necessarily that proud of that I did in my 20s, but I think we all do to a certain degree..." he said, hinting at his drug addiction and near death, as a result, in 2001.
"But that was a long time ago and I wasn't necessarily that excited to relive it for everybody's dramatic enjoyment.
"But it's all part of the game. I suppose it's really honest and pretty enjoyable for people to watch, and some candy-coated version wouldn't have been as interesting."
Guitarist Pat also had his tolerance for questioning and honesty tested to the limit during the filming of Back And Forth.
"It felt weird talking so openly," he agreed. "It's a weird thing to do and watch. There are some things in there that I didn't know, but I don't think we'll be watching it again.
"It's great that we did it though. People already know about our music so it has to be about the drama of the band, and hey - that's what people are interested in.
"That's what I'm interested in when I watch a rock and roll documentary. Who died? How many drugs did they take? That's kind of the deal, isn't it?"
Source: music.uk.msn.com
Added automatically
1050 views