News
Richards sorry for book offence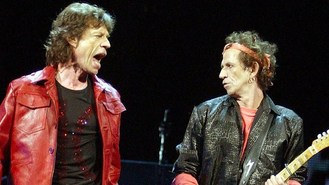 Keith Richards has apologised to bandmate Mick Jagger and admitted some parts of his autobiography Life "really offended" the singer.
The guitarist described the frontman as "unbearable" and revealed his nicknames for Jagger are "Brenda" and "Your Majesty" in the candid memoir published in 2010.
Richards said: "He and I have had conversations over the last year of a kind we have not had for an extremely long time and that has been incredibly important to me.
"As far as the book goes, it was my story and it was very raw, as I meant it to be, but I know that some parts of it and some of the publicity really offended Mick and I regret that."
Referring to a early chance encounter with Jagger when the pair bonded over a love of the blues, Richards said: "What some of our detractors forget is that although we look like old codgers living an ocean apart we are still at bottom the boys on platform 3 at Dartford Station."
Speaking in New York for an interview to promote a new documentary about the band, Jagger said the pair had a period in the 1980s when they "were not communicating very well".
He said: "I got very involved with the business side of the Stones, mainly because I felt no one else was interested, but it's plain now from the book that Keith felt excluded, which is a pity. Time I reckon to move on."
Richards also said the band were "back in touch" with former bassist Bill Wyman who joined them for a jam session in December and they had "talked about" him playing live with the band again.
Source: music.uk.msn.com
Added automatically
969 views