News
Kesha: 'Dr. Luke made me so miserable'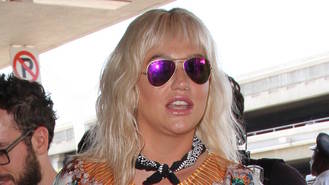 Kesha was so miserable at the lowest point of her relationship with producer and former mentor Dr. Luke she attempted suicide.
The 29-year-old Tik Tok singer has opened up about working with the hitmaker she is suing for emotional abuse, revealing he wouldn't let her get serious about her career and insisted her music should be fun and frivolous.
"Something that was always told to me is: 'You're fun. We're going to capitalise on that'," Kesha tells The New York Times Magazine.
"I was like, 'I am fun, but I'm a lot of other things'. But Luke's like, 'No, you're fun. That's all you are for your first record'."
The singer also had an issue with the way Dr. Luke 'dumbed down' her break-out solo hit Tik Tok, adding, "I remember specifically him saying, 'Make it more dumb. Make it more stupid. Make it more simple, just dumb'.
"I was like, 'OK, 'Boys try to touch my junk. Going to get crunk. Everybody getting drunk...' or whatever, and he was like, 'Perfect'."
And she didn't appreciate the comments he made about her figure when she put on a little weight, telling the publication, "I was under immense pressure to starve myself and I tried to and almost killed myself in the process."
Kesha has been embroiled in legal action against her Kemosabe label boss since 2014, when she accused him of emotional and physical abuse, which he denies.
As part of her spat with the producer, real name Lukasz Gottwald, the singer was ordered to turn over medical records pertaining to the alleged abuse after his lawyers requested them in May (16), in a bid to disprove her claims. Worried Gottwald would release her gynaecological, psychiatric and rehab records, which date back 10 years, her lawyers filed a motion to keep them private.
Earlier this month (Oct16), Supreme Court Judge Shirley Kornreich ruled her medical records would remain sealed in order to "insulate her from unnecessary embarrassment and to protect her medical providers". The records will only be seen by Kesha, Dr. Luke, and lawyers involved in the case.
Source: www.msn.com
Added automatically
549 views