News
Dr. Luke slams 'inaccuracies' in Kesha's new starvation claims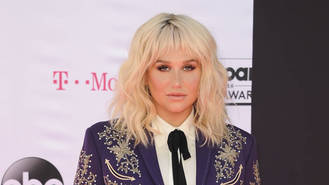 Hitmaker Dr. Luke's lawyer has lashed out at Kesha's claims she starved herself due to pressure from the producer.
The Tik Tok singer and her former mentor have been engaged in a legal battle since 2014 after she filed lawsuits accusing him of verbally, sexually, and physically abusing her while signed to his label Kemosabe Records.
On Wednesday (26Oct16) The New York Times Magazine published an interview with Kesha, in which she stated she felt she had to starve herself to please the producer, adding, "I tried to and almost killed myself in the process".
Just few hours after the article dropped online, Dr. Luke's attorney Christine Lepera fired back, insisting Kesha's comments are misleading.
"The New York Times Magazine profile piece that ran today unfortunately has many inaccuracies," the counsellor writes in a statement to Billboard. "This article is part of a continuing coordinated press campaign by Kesha to mislead the public, mischaracterize what has transpired over the last two years, and gain unwarranted sympathy."
Lepera went on to dismiss Kesha's assertion that the 22 songs she recorded over the past few years have been barred from release because of restrictions imposed on her by bosses at Kemosabe.
"The reality is that for well over two years, Kesha chose - and it was entirely her choice - not to provide her label with any music," the lawyer argues. "Kesha was always free to move forward with her music, and an album could have been released long ago had she done so. She exiled herself."
According to Lepera, Dr. Luke, real name Lukasz Gottwald, and his Kemosabe Records associates have done everything in their power to help Kesha's career, despite the ongoing legal feud.
"The creation of an album is a process, however what has clearly been communicated is that the aim is for a release date as early as possible," the lawyer states. "It is in the economic best interest of the label and Mr. Gottwald to put out a top selling album, and that takes time. In fact, the label suggested an early release of an advance Kesha track. It was Kesha's team who rejected this proposal."
Lepera concludes, "Kesha's claim in the article that she has no ability to earn money outside of touring is completely rebutted by well documented public court records which apparently escaped the article's attention."
Kesha's attempt to get out of her contract with Kemosabe was rejected in May (16). She is still pursuing an appeal case in New York in a bid to get the legal ruling overturned.
Source: www.msn.com
Added automatically
552 views