News
Neil Young to release only his 38th album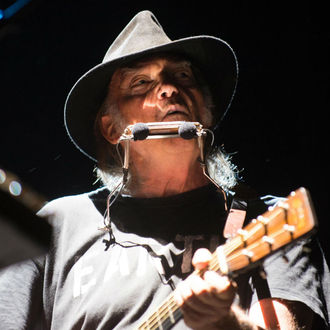 The rock-icon, Neil Young, is set to release his latest album on the 2nd December through Reprise Records. 
This will be Young's 38th album to date, and it will boast no less than 10 tracks. 
The tracks were all written since Young and his backing band's live album, EARTH, which was released last year. 
Young's latest album will be called, Peace Trail, and it features the work of two session musicians in Jim Keltner, and Paul Bushnell. 
Neil Young produced the album alongside John Hanlen, who also served as mixer, which all took place in Rick Rubin's infamous Shangri-La studios. 
The first track from the album, 'Indian Giver', was previously shared by Neil Young, you can listen to it below:
The video to the single is full of random clips of the singer driving, police men arresting a suspect, and a top with the word "protect" on it. 
Peace Trail, is believed to be an acoustic album and one that is personal to both Young, and his listeners. 
The track listing is as follows: 
01. Peace Trail
02. Can't Stop Workin'
03. Indian Givers
04. Show Me
05. Texas Rangers
06. Terrorist Suicide Hang Gliders
07. John Oaks
08. My Pledge
09. Glass Accident
10. My New Robot
The album will be available from all outlets and on all forms from the 2nd December. 
Source: www.msn.com
Added automatically
593 views