News
Miley Cyrus: 'I wear my engagement ring to please Liam Hemsworth'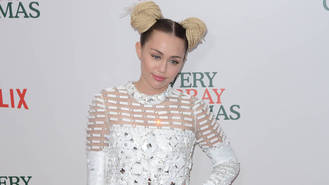 Miley Cyrus wears her engagement ring to make fiance Liam Hemsworth happy, insisting she isn't keen on expensive jewellery.
The stars originally planned to tie the knot in 2013, but called off their romance amid rumours Miley's wild behaviour had caused problems in their relationship. They reconciled at the end of 2015, and the 23-year-old was soon spotted wearing her engagement ring once again.
Miley and Liam have remained coy about whether or not they have resumed planning their wedding, but one thing is for sure - the singer/actress isn't completely comfortable flashing her gold and diamond sparkler.
"This is really weird because this is like, real jewellery and most of my jewellery is made out of gummy bears and cotton candy and they don't look that good together because they kind of mix up, so sometimes I replace it with an actual unicorn or a Looney Tune (charm)," she laughed to Ellen DeGeneres on the comedienne's U.S. talk show. "And he (Liam) is kind of like, 'What's going on?' I am like, 'This isn't really my aesthetic, but I'll wear it because you love me'."
Since reigniting her romance with Liam, Miley has toned down her party girl image. She's also tried her hand at TV this year (16), acting as a judge on America's The Voice for the current 11th season.
Miley is missing out on season 12, with Gwen Stefani rejoining the judging panel, but she reveals she will be back for the 13th run of the hit talent series.
"I'm getting jealous, I just saw them out there filming (season 12) and it's hard. I miss my chair. Someone else's a** is in my chair right now, I don't like it!" she exclaimed. "But I guess it used to be (Gwen's) and I'm now in her chair. Hell yeah (I'm territorial)."
Source: www.msn.com
Added automatically
614 views