News
Mariah Carey to foot the bill when Nick Cannon visits twins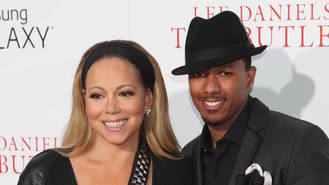 Mariah Carey has agreed to pay for travel and accommodation when her ex-husband Nick Cannon comes to visit their twins.
The singer and America's Got Talent host separated in August, 2014 after six years of marriage and he filed for divorce in December that year (14). The former couple, who share five-year-old twins Moroccan and Monroe, finally settled their divorce earlier this month (Nov16).
They reportedly had a pre-nuptial agreement in place so they got to keep the money they each earned during the marriage and the division of property was already agreed upon. It was claimed they would also shared joint custody of their kids and neither would receive child support.
TMZ.com have now obtained new details of the divorce settlement, revealing that although the former couple share custody, the children will be primarily with Mariah and, if Nick comes to visit, they have agreed she must pay for his travel and accommodation.
The TV personality also has to put $5,000 (£4,000) a month into a trust for their twins and Mariah doesn't, while neither can allow the kids to refer their significant others as mom, dad or similar, according to the agreement.
Mariah declared her 2014 income as $6.3 million (£5 million) while Nick's was $2.7 million (£2 million) and she also agreed to sign over the title to a 2012 Ferrari to him, TMZ also reveal.
The singer moved on from her divorce with Australian billionaire James Packer and they got engaged in January (16). According to her spokesperson, they are currently on a break following a fight in Greece in September (16).
"Mariah and James had a fight in Greece, and have not seen each other since," a statement issued to Entertainment Tonight said. "They are trying to work it out. Right now, they're not sure if they will stay together. They are discussing it, and plan to release an official statement together about their future."
Source: www.msn.com
Added automatically
599 views