News
Kylie Jenner 'keen for music career'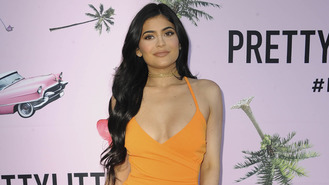 Kylie Jenner is reportedly getting ready to launch an attack on the music charts.
The youngest of the Kardashian/ Jenner clan is best known for becoming a star off the back of reality TV show Keeping Up with the Kardashians. And while she's dabbled in fashion and beauty ventures, sources say Kylie is after even more career recognition.
"Kylie's been taking singing lesson since 2015, and music's something none of the other sisters have done, so she can really take ownership of it," an insider told Britain's Grazia magazine.
She's in good company should she choose to pursue singing as she's dating rapper Tyga, and her brother-in-law Kanye West, married to her older half-sister Kim Kardashian. Kim has also tried her luck at a singing career releasing Jam (Turn it Up) in 2011, before she got together with Kanye.
Many fans have speculated 19-year-old Kylie already has begun releasing music, claiming she fronts new band Terror Jr., whose songs have been used in a Michael Kors advert and in promotional material for Kylie's own lipgloss products.
The frontwoman, Lisa Terror, so far hasn't shown her face, wearing only a big pink wig in band photos. Another telling sign is the fact Terror Jr. only follow Kylie on Twitter and Instagram, though have over 23,000 followers themselves between the two sites.
Their latest song, 3 Strikes, was also recently registered to American Society of Composers, with Kylie listed as the performer.
"She's enjoyed keeping people guessing, especially because the Kardashian name usually comes before anything else but the plan was always to come clean," the source added.
Source: www.msn.com
Added automatically
584 views