News
Taylor Momsen feels pressure to deliver music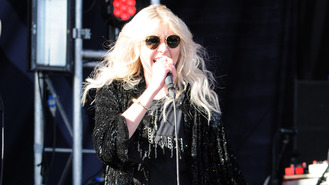 Taylor Momsen can't escape the pressure on her band The Pretty Reckless.
The 23-year-old star began her career as an actress, starring in How the Grinch Stole Christmas and Gossip Girl, before founding her group in 2009.
She and her bandmates gained success with tracks like Make Me Want To Die and Heaven Knows, and fans were overjoyed upon the release of their third record Who You Selling For in October (16) - but that doesn't mean Taylor feels like they've made it yet.
"I can say it's the most rewarding feeling in the world when you finish a good song and you can play it all the way through and go, 'Check this out,'" she told Vogue.com. "There's no greater feeling. Then you fall back down the rabbit hole - 'F**k, I have to do this again.' We don't feel outside pressure. We put the pressure on ourselves."
For Who You Selling For, The Pretty Reckless relied not only on their long-time producer Kato Khandwala but a series of other talented artists. One of these was singer-songwriter Janice Pendarvis, who has previously contributed to albums for the likes of David Bowie and Sting and whose vocals appear on two tracks.
"For the first time we brought in live musicians so we could get that live feel instead of having to overdub a keyboard later," Taylor added. "It took songs to a whole new place. A good example is The Devil's Back. That was originally going to be two minutes. But we were all playing together live, and it felt good. We just kept playing, and now it's one of the longest songs on the record."
This approach helped give a human element to the material, with Taylor bemoaning how "manipulating" music with a computer takes away the effort people have put into it.
"Imperfection (can) be the thing that makes it perfect," she concluded.
Source: www.msn.com
Added automatically
609 views