News
Dave Grohl cured James Bay's Grammys nerves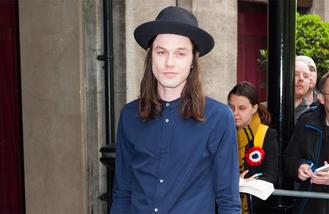 Dave Grohl made James Bay's nerves go away before he performed at the Grammys.
The 'Let It Go' hitmaker awkwardly bumped into the Foo Fighters frontman backstage at the prestigious awards bash in February after going to the toilet and to break the ice he explained that he couldn't shake his hand because they were wet from washing them.
However, the 26-year-old singer says the surreal moment made him feel "pretty zen" after their chat and his pre-show anxiety slipped away.
He told the latest issue of Q magazine: "On the night, I was performing [with fellow New Artist nominee Tori Kelly] and kept saying to myself beforehand, 'I'm nervous and it's going to get worse.'
"I was wandering backstage and Dave Grohl went, 'Hey! I know you!' He tried to shake my hand but I had to say [wipes hands on thighs], 'I'm sorry, it's very wet, I've just been to the toilet and there were no paper towels.'
"He didn't recoil, he was a consummate pro. That helped break it up and keep it light. When I got to the bottom of the
steps about to perform, the nerves all just fell away and I was pretty zen - that's what I recall most about the night."
Meanwhile, the troubadour-wearing rocker has revealed he performed his biggest hit 'Hold Back The River' with England football captain Wayne Rooney and he is quite the fan.
Recalling the duet, he shared: "I performed at The England Footballers Foundation charity event in May in front of the England squad. Wayne Rooney sang 'Hold Back The River' with me while Gary Neville played guitar. Wayne's a wonderful, wonderful bloke who likes to sing and loves music. Gary was wicked. Bless him, he was so nervous. To see Gary Neville shaking is humbling cos he's done so much on the pitch.
Pelé was there too There were a few people there to meet him but he just pushed through the crowd - and he's got guys to help him walk because you can't imagine what his legs have been through with opponents trying to kick him off the pitch - and said, 'I loved your music.
Source: www.msn.com
Added automatically
575 views