News
Justin Bieber's bottom exposed by overzealous fan in Prague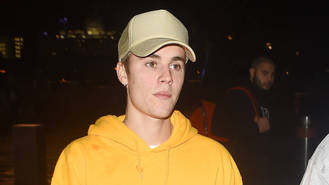 A female fan has pulled down Justin Bieber's trousers and exposed his butt in the Czech Republic.
The Sorry singer was leaving a building in the centre of Prague and being ushered past a crowd of screaming fans towards his car by security guards when one fan grabbed hold of his black trousers and pulled so hard they fell down, flashing his butt, footage obtained by TMZ.com shows.
Justin, who is hiding behind the hood of his black jacket, stops momentarily and slightly crouches as if bracing himself and one of the security guards walking behind him tries to break the fan's grip but she manages to hold on as Justin continues walking. Eventually, after another guard joins, the singer breaks free. The guard helps him with his pants and he gets into the car and is driven away.
The 22-year-old performed in the city on 12 November (16) and reportedly blew off steam later that evening by inviting six girls back to his hotel suite, according to news outlet Mail Online. A request was reportedly made by his team on social media for female company to join him at the Hemingway Bar.
On Wednesday (16Nov16), Justin was performing in Frankfurt, Germany when he burst into tears onstage while singing his track Purpose. Fan footage showed him stopping the performance mid-song to wipe the tears from his eyes with his Metallica T-shirt.
The audience screamed as he flashed his abs, and Justin was seen smiling bashfully as he attempted to control himself.
He resumed the performance but he seemed to be struggling to hold back the tears as the fans sung the song back to him, and he managed to compose himself before the song reached its conclusion.
The Purpose World Tour continues in Bologna, Italy on Saturday (19Nov16).
Source: www.msn.com
Added automatically
633 views