News
Metallica's album was inspired by Amy Winehouse's death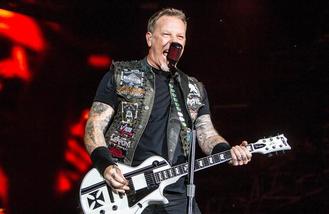 Amy Winehouse's tragic death inspired Metallica's new album.
The heavy metal band's LP 'Hardwired... to Self-Destruct' - their first studio release in eight years - is set to drop on Friday (18.11.16) and features a song called 'Moth Into Fame', which is based on a pop star who crashed and burned, and the group have admitted the documentary 'Amy' on the 'Rehab' singer helped them pen the track.
Singer James Hetfield, 53, explained: "The film about Amy Winehouse inspired me to write that song. It's a sad movie. Fame can be a dark, dangerous drug. Everybody wants a piece of you. It totally changes your view of the world."
But, although the majority of the inspiration came from the 'Valerie' singer - who sadly died of a drugs overdose in 2011 - the band, which formed in 1981, understands the battle of fame.
James said: "Fame has followed me around since we formed the band. It's a Pandora's box that often makes you wonder: 'Okay, how do I now become unfamous?'"
It's taken the 'Enter Sandman' hitmakers eight years to pen this release and, although James and Lars Ulrich are the founding members of the group, bassist Robert Trujillo, 52, was also allowed to give his two cents this time round.
Speaking to the Daily Star newspaper, Robert said with a chuckle: "At the end of the day, it's their baby but I was there for the conception."
Asked why it's taken them so long to drop a new LP, James - whose band has toured every year since 2011 - joked: "We had a lot of laundry to do after our last tour."
Metallica remain the biggest metal act on the planet - with more than one billion streams on the digital music service Spotify - and they're very much aware of that.
Asked who their biggest fans are, James said: "We are our biggest fans, and Lars is the biggest fan of all of us. His entire house is full with Metallica merchandise."
Source: www.msn.com
Added automatically
563 views