News
Anne-Marie almost booted off flight celebrating number one single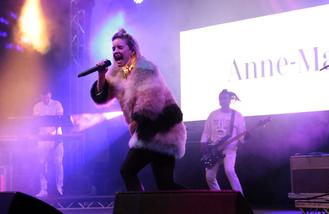 Anne-Marie almost got thrown off of a plane after getting drunk in celebration of 'Rockabye' hitting number one.
The 25-year-old singer was boarding a flight from Berlin airport back to the UK when she found out she had climbed to the top of the UK chart with her smash hit with Clean Bandit and Sean Paul.
Air hostesses plied the blonde pop beauty with 10 bottles of champagne and some vodka, which resulted in the 'Alarm' hitmaker turning the flight into the scene from the comedy film 'Bridesmaids' when lead character Annie Walker [Kirsten Wiig] is drunk in first class.
She recalled: "I ended up so drunk on this plane and I was running up and down the aisles singing! I was making everyone else hate me and being so annoying.
"It was just like that scene in 'Bridesmaids' when she goes into first class drunk! It was so fun though."
'Rockabye' is the first number one from the star, who shot to fame as a vocalist on tracks 'Rumour Mill' and 'Love Ain't Just A Word' with drum and bass group Rudimental.
Despite becoming a successful solo artist, Anne-Marie insists she hasn't left behind the group that contributed to making her a chart success.
She shared: "I am working with them still, they have helped with the production on my new solo album. They're great friends but also musically we've done so much together and they've done so much for me, I wouldn't leave them behind."
In fact, Anne-Marie is going to appear on their third album as a thanks for all they've done for her.
She added to the Daily Star newspaper: "I will be on their third album too, it's still being made so I don't know how many songs I'll feature on but yeah we've worked on it together."
Source: www.msn.com
Added automatically
642 views